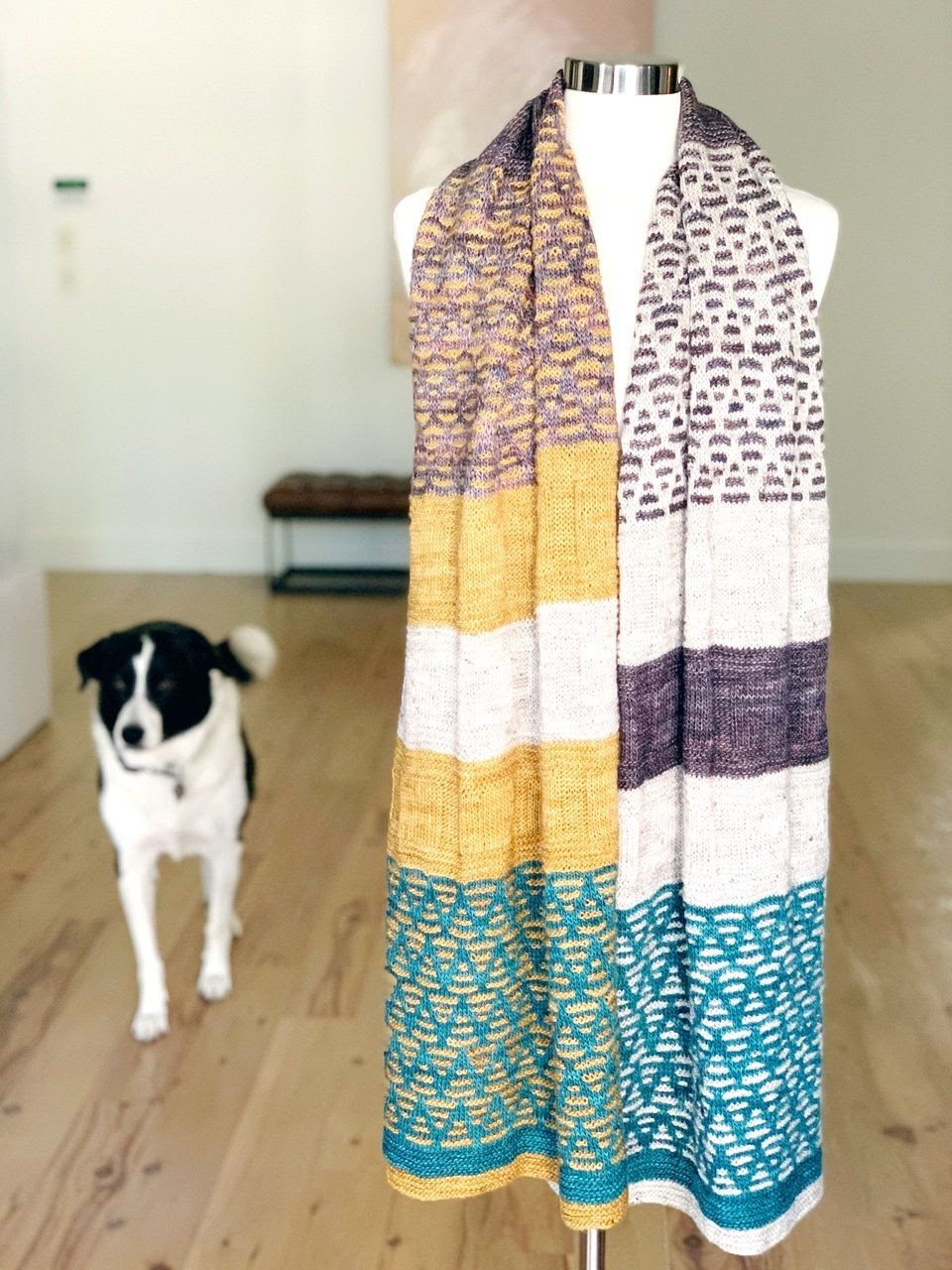 Confession time: As a knitter living in a warm climate, I've always had a love-hate relationship with tweed.
I LOVE how it looks – rustic, homespun, textural.
I HATE how it feels – scratchy, itchy, rough.
But finally, after all these years, a tweed has come along that I've fallen truly, MADly, deeply in Loops love with! 😍😍😍
Introducing Madelinetosh TML & Tweed – in a custom palette created just for Loops 💃🏽
The base for Tosh Tweed is the #1-selling, classic Tosh Merino Light, dyed by hand in Texas from wool ethically sourced from South Africa – but with the addition of tweed flecks. Light and lofty fingering weight. 100% merino. 0% itch!
We had a lot of fun naming our Tosh Tweed colors with an Oklahoma theme. And even more fun curating a pattern collection…showcased by a new, original design collaboration with the Brooklyn Boy himself, Louis Boria – and modeled by Felicia of String Thing Studio / Brooklyn!
Louis designed this new, slip stitched wrap with one skein each of 4 colors from our Tosh Tweed collection, and he has a beautiful story of inspiration:
"The Ivelisse wrap was inspired by mother Ivelisse," Louis said. "Each year, I make it a point to gift my mother several of my shawls. My mother happens to be one of my biggest fans and supporters. To quote her…'I love wearing the shawls you make me. I love wearing them to church and showing them to the ladies.' My mother wears them to church, during prayer, out shopping, or just sitting on her patio playing Sudoku.
"Back in March I fell ill to COVID-19. During that difficult time my mother called me throughout the day to check on me. I knew she was as scared as I was during those three weeks but it was what she told me at the end of those calls that made me feel better… "I'm going to pray for you."
"This shawl is dedicated to my mother Ivelisse and for all her prayers that got me through the most difficult time in my life."
"Ivelisse" is a knit to keep you grounded with simple textured stitches and uncomplicated colorwork.
Louis knit his in one skein each in the colors:
Grand Lake
Whiskey Tango Foxtrot
Will Rogers
Nothing Gold Can Stay
For the month of October, we'll include the "Ivelisse" pattern pdf free with any purchase of 4 skeins or more of Tosh Tweed.
See all of the other colors and projects in our Loops Tosh Tweed collection here.
Collaboration expands creativity and lets us see new possibilities.
So we've been eagerly anticipating the new collaboration between designer Tina Tse (a Knit Stars 5.0 instructor!) and our favorite Okie dyer, Moodrake Co.
Moondrake dyed up our favorite Merino Linen base in two edible colors: Candyland and Juicy. This yarn is so fun to knit with its delicate tweedy haze and relaxed, touchable texture.
And it's a perfect pair for Tina's "Sun and Solace Tee" – a bottom up, drop shoulder box tee with no seaming. It features engaging 2-color slip stitching so you can sit back and bask in the glow of Moondrake's hand-dyed goodness.
This tee has plenty of positive ease, and is written for 20 sizes, with the finished bust measurement ranging from 28.5-68.5″. Yarn requirements by size are:
Bust sizes 28.5-35″ – 1 skein of each color.
Bust sizes 37-52″ – 2 skeins of Candyland and 1 skein of Juicy.
Bust sizes 54″-66.5″ – 3 skeins of Candyland and 2 skeins of Juicy.
Bust size 68.5″ – 4 skeins of Candyland and 2 skeins of Juicy
The "Sun and Solace Tee" by Tina Tse is available on Tina's website, tinatseknits-dot-com.
Shop Moondrake Merino Linen here.
Pack your virtual bags, because the adventure is about to begin! ✈️ 🌏
Knit Stars, the original, *all-online* knitting festival, opens for sign-ups October 8th.
To give you a taste of what's to come, we've made you a free mini-series with sneak peeks, useful tips and free patterns.
Head over to www.knitstars.com and let the journey begin!
Our first stop? Copenhagen, where Åsa Soderman shares tips for faster frogging, picking up that pesky edge stitch + a *free* Ziggurat hat pattern.
Later this week we'll have a sneak-peek video featuring Gaye "GG" Glasspie, the iconic goddess of all things orange! She shares her #1 tip for aspiring yarn-preneurs, plus a fun, free pattern just for you. (And no, you don't have to make it in orange 😜)
Have you been dreaming of an island getaway, or maybe a trip to Europe?
How about both?
Next in our free mini-series, we'll embark with you to the island of Mallorca, Spain. Meet Tatiana Sarasa and learn about how she approaches knitting from a unique holistic perspective.
With this 3rd free video tip we've included a gorgeous pattern from another Season 5 star, Yumiko Alexander!
Visit www.knitstars.com today to join the fun!
This week's featured yarn from our new Hot Loops Wall is "Cheesecake DK" from Kim Dyes Yarn. This merino/silk blend is even more rich and delicious than its namesake 😜
Trooper Karen used Cheesecake DK in her "Pride Yoke" by Knits n Knots. It's a pullover knit seamlessly from the top-down that's designed to have approx. 2-4" of positive ease, so you can try it on as you go and get your perfect length. We love the size-inclusive pattern with sizes from XS-5XL.
Karen knit hers using Whipped Cream as the main color and our Rainbow mini-skein set. Also try it in Buttercream with the Dark Rainbow minis for an earthier look!
Knit your Pride yoke with one Mini-Skein set and 5 (5, 5, 6, 6) (7, 7, 8, 8) skeins of your main color of Cheesecake DK for finished bust size 32, (36, 40, 44, 48) (52, 56, 60, 64)". This yardage allows enough for the long sleeve version.
Pattern recommends US 6 needles, 16″ and 24″-32″ for the body, plus DPNs or 8″-9″ circulars for the sleeves.
There's also a Pride Yoke crochet version over on Ravelry 🥰
Want to try out our new Cheesecake DK with a 1-skein pattern?
The "Bynx Cowl" by Hayley Geary is a cabled cowl that just *needs* to be knit up in Kim's Cheesecake DK. The clear glowing stitch definition in these fibers is a cable-dream come true.
With just one skein of Cheesecake, you'll have a piece that's gift-able, squish-able, and full of indulgence.
Knit it up on Size 6 and 7 circulars and find the "Bynx Cowl" free on Ravelry!
Shop Kim Dyes Yarn Cheesecake DK here.
|
This week, we're winding down our sale on ...
Read More

→
|
This week, we're winding down our sale on ...
Read More

→