Give me Liberty [yarn]…and 3 free patterns!😎
Sometimes life can be a tangled skein.
You know what I mean…
A series of "what the what?!" moments that keep you from getting to the fun part that you love the most.
So we've made it our mission to do the untangling for you…
Coming soon…
…wait for it…
(Are you excited yet?????)
*It's time for the Fall 2020 Hot Loops Wall Virtual Party!!!*
For the past 15 years, twice a year, we do all the work for you! We curate a collection of fibers from an on-the-move indie dyer, then expertly pair each fiber with a perfectly on-trend project.
So you can get right down to the best part…knitting!
The Hot Loops Wall has this season's hottest sweaters, hats, scarves, shawls, and tops to knit or crochet- all in one place.
Click here to join us online as we reveal our new Hot Loops Wall on Friday, September 25 at 7pm Central. Tickets to the virtual reveal and online party are $25, which gets you:
$25 in credit to use on our LoopsLove shopping site that night,
A chance at amazing "door prizes,"
A party favor in your shipped package, and best of all…
First pick of all the fabulous new projects!
"See" you there!

Wouldn't it be nice to have a hug that stays with you all day?
A fluffy cloud of cotton that lifts your spirits and snuggles around your neck…
We have nine colors of fluffy-cotton-cloud hugs…and 3 FREE patterns that are a perfect match for the yarn.
Wool Addicts Liberty is a bulky 100% cotton yarn in a feather- soft single-ply. It works up quickly and those spirals of cotton give even the simplest project amazing texture and movement!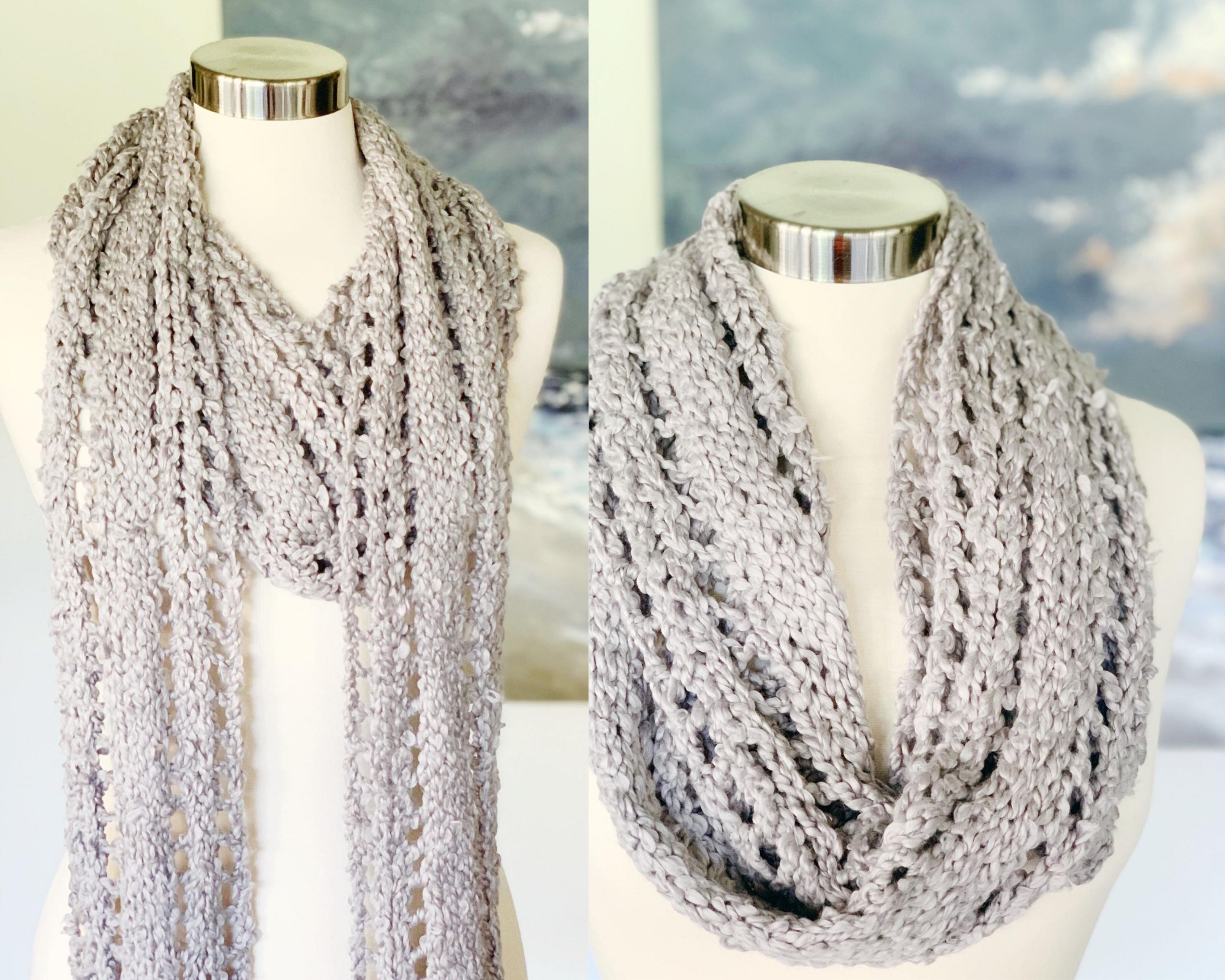 Loops Trooper Bekah knocked out Shelley's "Cantaloop" scarf design using just 2 balls of Liberty. It's a super-quick, super-easy pattern that's light enough for summer but cozy enough for year-round. (And did we mention…it's totally gift-worthy?!)
If you crochet, Sherri's "Shoji's Cowl" is a relaxing project that's full of character. With 4 balls of Liberty, these open stitches and fringe will have you on cloud nine. ⛅️
If you're in the mood for a larger neck-hugging knit of cloudy fluff, pick 4 balls of your favorite Liberty color and knit up an "Ivy Shawlette." It's a simple triangle shawl with big airy eyelets and a splash of fringe.
Click here to buy Liberty cotton yarn and download any of these three FREE
Baby blankets don't have to be pastel scratchy acrylic. They can be cozy, colorful and artistic…with the right yarn, the right pattern and minimal effort!
We've designed three kits with Blue Sky Organic Cotton that are bold, *soft* and environmentally friendly. This worsted weight classic is the cotton we come back to year after year.
These kits are perfect for an heirloom baby blanket that any modern mommy will love, but these colors would also make a bold splash on the back of any chair – ready to snuggle on a chilly day.
Our Blue Sky Organic Cotton kits have 1 each of 5 colors of 150 yards of organic worsted weight cotton and knit up quickly on Size 9 needles.
The Chevron Baby Blanket pattern is available free on Ravelry from Espace Tricot.
Click here to shop our exclusive chevron kits.
Easy? ✔️
Scrumptious? ✔️
Makes more time for knitting? ✔️
This recipe for Root Beer Pulled Pork Sandwiches from The Girl Who Ate Everything blog has some serious "yum" factor!
With just a few ingredients and your favorite crock pot or instant pot, you'll be knitting all day and then sitting down to a fun treat for dinner. The recipe calls for root beer, but if you prefer, you can also use Coke or Dr. Pepper (if you can find it!)
Let us know when it's on the menu…we'll be right over! 😜
Root Beer Pulled Pork Sandwiches
Ingredients:
1 (2 pound) pork shoulder or butt tenderloin can be used for a leaner option
1 (12 ounce) can of root beer
1 (18 ounce) bottle of barbecue sauce
8 hamburger buns
Directions:
1. Place the pork in a slow cooker and pour the can of root beer over the meat. Cover and cook on low for 6 hours or until pork shreds easily with a fork.
2. After pork has cooked, drain and discard the root beer. Shred the pork and place it back in the slow cooker. Pour the barbecue sauce over the pork and stir to combine. Serve immediately or keep warm in slow cooker until ready to serve. Serve on hamburger buns.
3. For the Instant Pot: Cook on high pressure for about 35 minutes. Let pressure release and continue to step two.
|
This week, we're winding down our sale on ...
Read More

→
|
This week, we're winding down our sale on ...
Read More

→