🧶How far would you walk uphill for inspiration?
When Olga Buraya-Kefelian @olgajazzy was growing up in Belarus, she would save up money each month to buy a Cosmopolitan magazine. She and her mother, a seamstress, would pore over the pages together. They couldn't afford to buy the clothes, but her mom would sew and Olga would knit.
Then Olga married her enlisted spouse, and they moved to Italy.
"I was 22 and around that time, in Italy and all the southern European countries, there was so much stimulation – the flora, the fauna, the way people dressed, the joie de vivre everywhere," Olga said. "I'd go to the flea market every single week and marvel at the fabrics and notions for sale – so much print and vibrant colors. It was so inspirational to me."
"But as a military spouse who wasn't allowed to work, I could only volunteer at the library," she said. "The base was up on the mountain, and to get a meal I had to take a bus up the mountain from the library, walk across the whole town, get my mail and go to the commissary to eat."
"Along the way I discovered a yarn store. I didn't know about yarn brands at that time, I'd only known basic wool in Belarus. But this was Italy, so the textile production was insane. I discovered things like Noro and thought, I've never seen yarns like this! But I couldn't really afford it. I'd save up and buy one ball thinking I had enough, and then I'd have to come back the next week and buy one more…"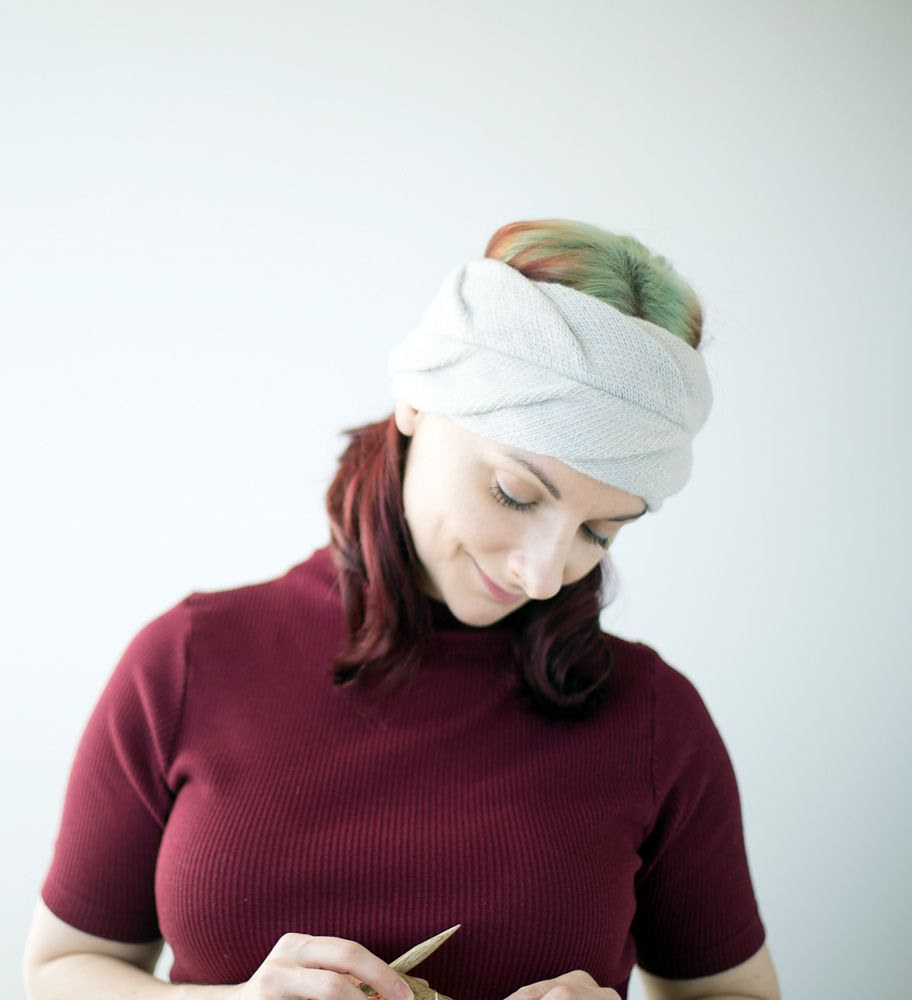 Shutter by Olga Buraya-Kefelian
My husband was not an officer, he was enlisted. So whatever I wanted to do I would save up. He gifted me for Christmas my first sewing machine. It cost $100 on Amazon. From there I found people that were doing secret pals on knitting blogs. Then I found Interweave and Vogue Knitting magazines. It would take me three days to decipher the patterns because there was so much text!
"The reason I started designing was I didn't understand the other patterns. I didn't have anyone speaking English to me who was also speaking knitting. There was lots of trial and error! But
eventually I became friendly online with a Russian woman who had a yarn shop in Texas, and she helped me find my way."
In Olga's Knit Stars Season 8 Masterclass, she takes you on a deep dive into the details of 3D knitting. Her class project features a silk-wrapped stainless steel yarn.
"You can pick anything from your stash and combine it with this yarn, and it will be a resounding success," Olga says. "The stainless steel preserves the texture of the project, even through washing and drying. It's like architectural beams that support the texture. You can shape and re-mold it, almost like play-doh."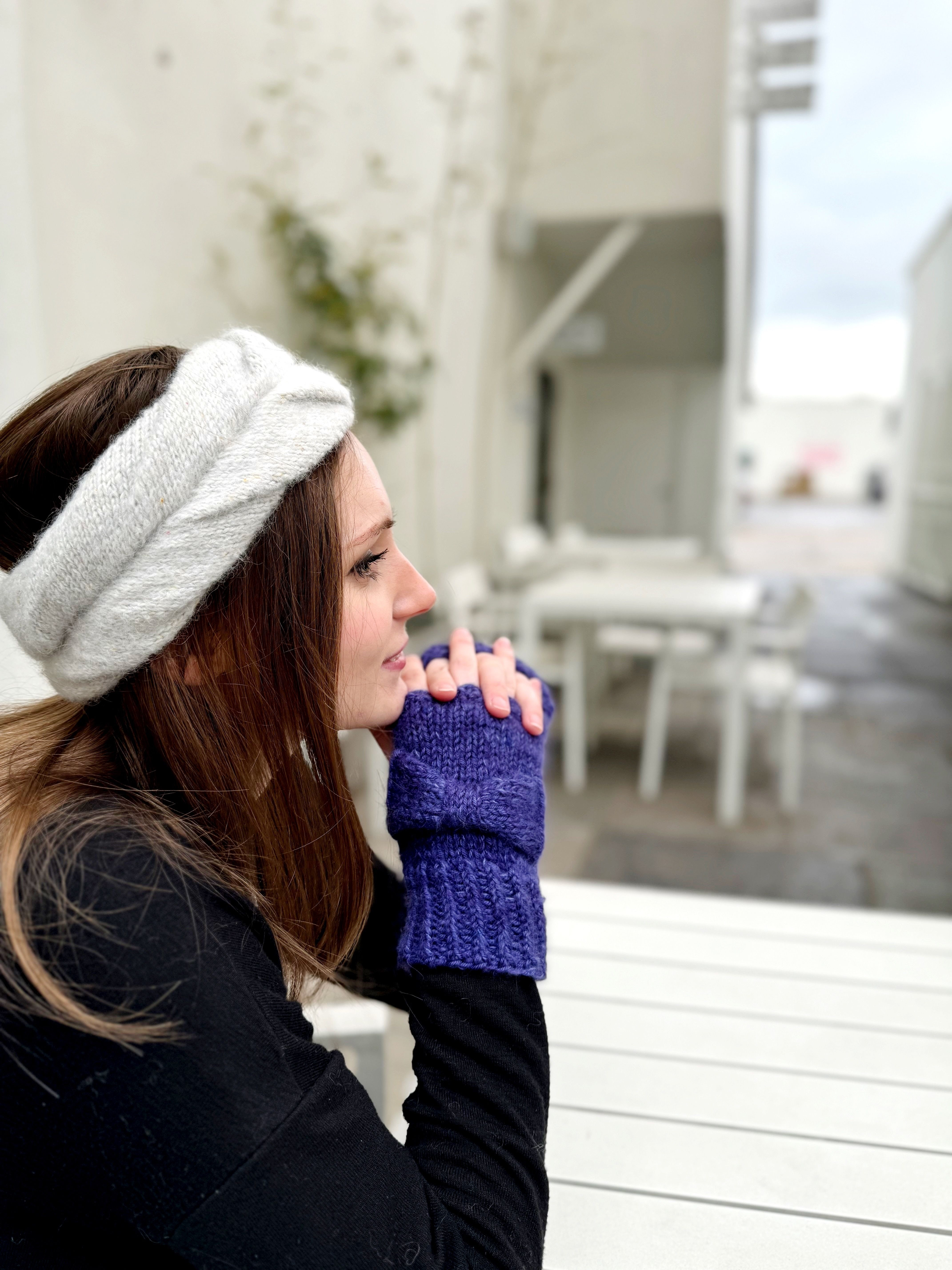 Two of Olga's most gift-able designs are featured on our new Hot Loops Project Wall.
The idea for the "Shutter" headband was born in summer, upon Olga's return from a teaching engagement. Her inspiration gears were churning, which produced some swatches. Her progress started to resemble a camera's lens shutter – hence the name of the pattern!
Looking geometric at first, "Shutter" turns into a soft and simple design. The petal-shaped cables embody finesse and minimalism. You'll be mesmerized by the result of the biased fabric manipulation – discovering that sometimes things in life and knitting can be this straightforward.
Team member Stephanie, who made our Shutter model, said, "My favorite thing about the Shutter headband was its unique construction. It didn't look like much until the very end, then voila! A beautiful headband."
To make our version of "Shutter," we combined a strand of Twisted Ambitions "Sweet Sock" with "Suriously" and used size US #5 (3.75mm) needles. Shown in our exclusive colorway, "Calm Before The Storm" – and we have tons of color combos for your whole holiday gift list!
Shop our Shutter Headband kit here.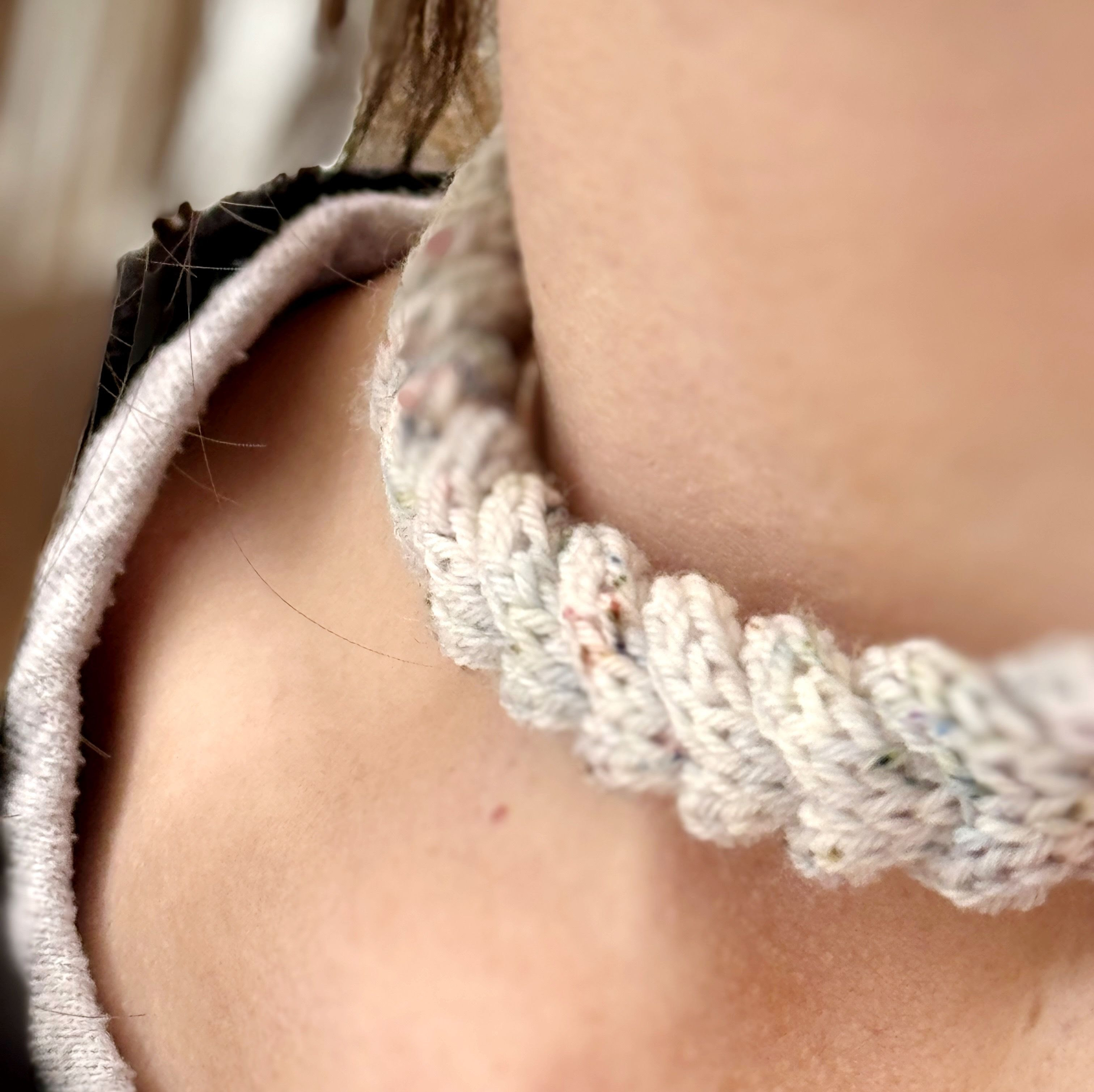 And Olga's "Cable Braided Necklace" went straight to the top of my must-make list! What a perfect little elegant accessory. It only takes about 50 yards of fingering weight yarn. We used Sweet Sock in "Calm Before the Storm" for this one, too.
"The Cable Braided Necklace requires no cabling!!" said Loretta, who made our model. "The clever design and comprehensive instructions make this highly customizable – a bracelet, necklace, headband.  Holiday garland would probably be a bit more than I could fathom, but it sure would look amazing on the tree!"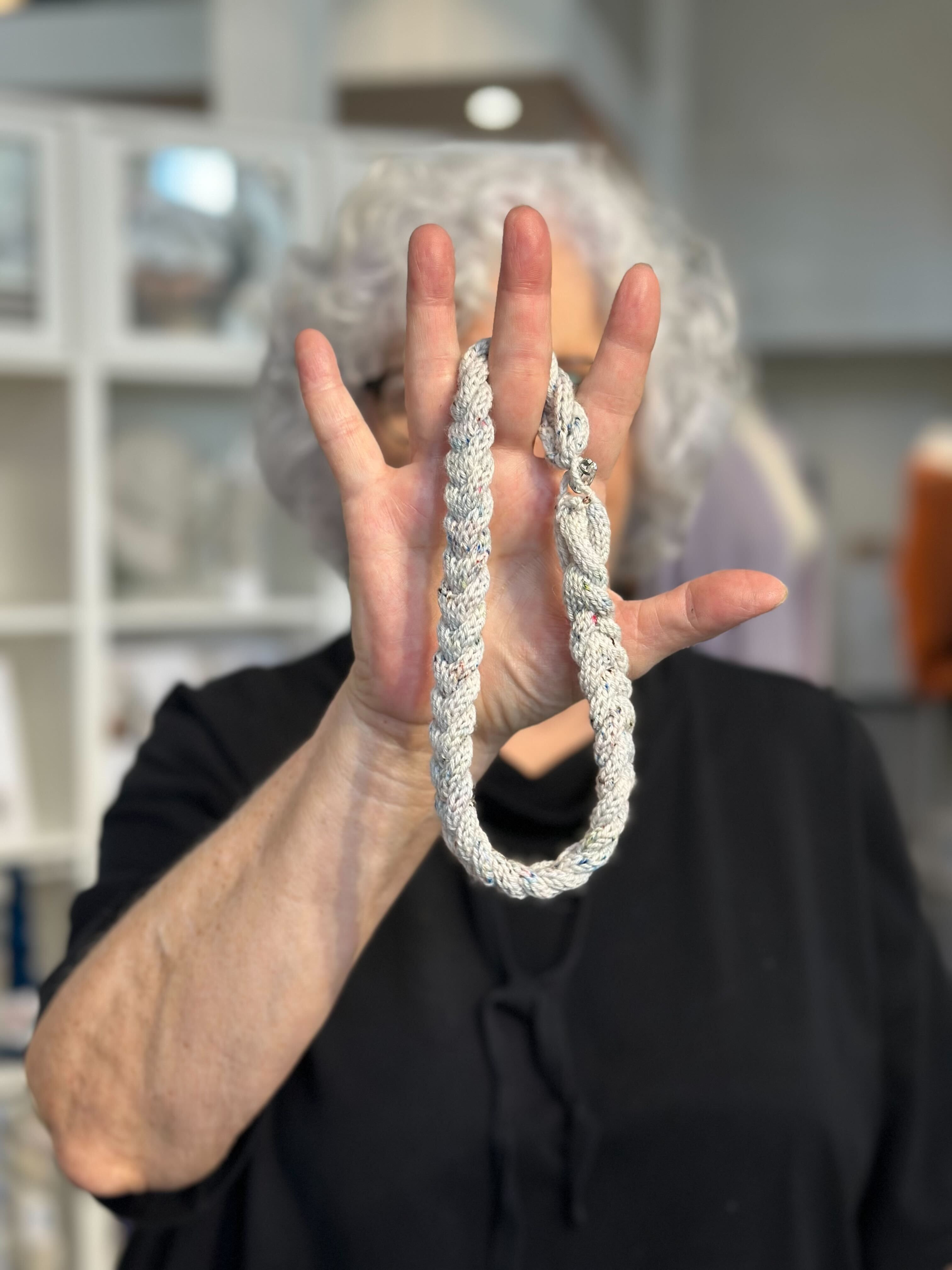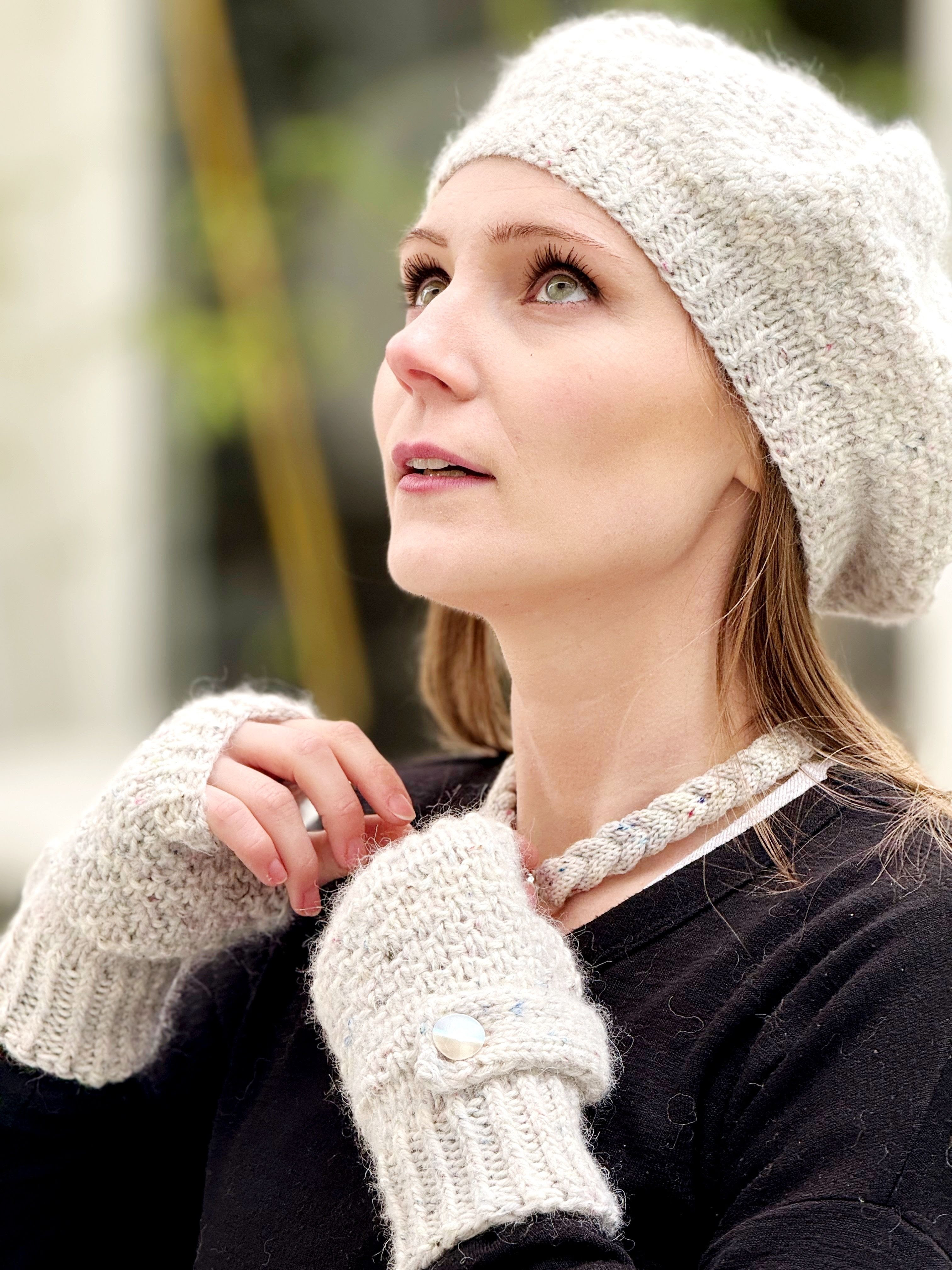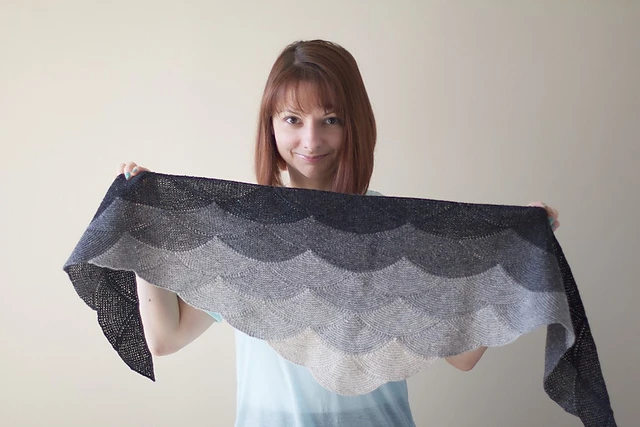 Shop Sweet Sock here and make this necklace on repeat! The pattern is free on Ravelry.
"Aranami Shawl" also by Olga has been lurking in my Ravelry queue for ages. I think I've finally landed on the perfect yarn for it – our exclusive Urth "Sweet 16" Non-Superwash fingering weight. This 16-micron merino is softer than most cashmeres, and we have the most beautiful earth-inspired colorways. You'll need just one skein each of 5 colors to make this show-stopper!
"The color and patterning of this shawl reminded me of a winter ocean, with foamy raging waves on the surface," Olga writes. "Worked in modular technique, this shawl is a great travel project as elements are worked one at a time. Pick your colors and see them transition under your fingers."
Shop our Urth "Sweet 16" yarn here. Consider mixing up your palette with a pop of color on the edge!
If you make or cast on any of the projects from our newsletter (or make the recipe that follows!) be sure to tag us on Instagram and Facebook @knitstars 🌟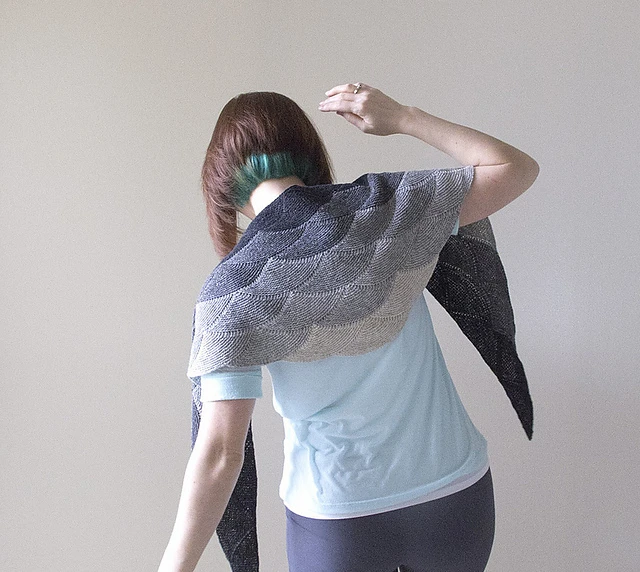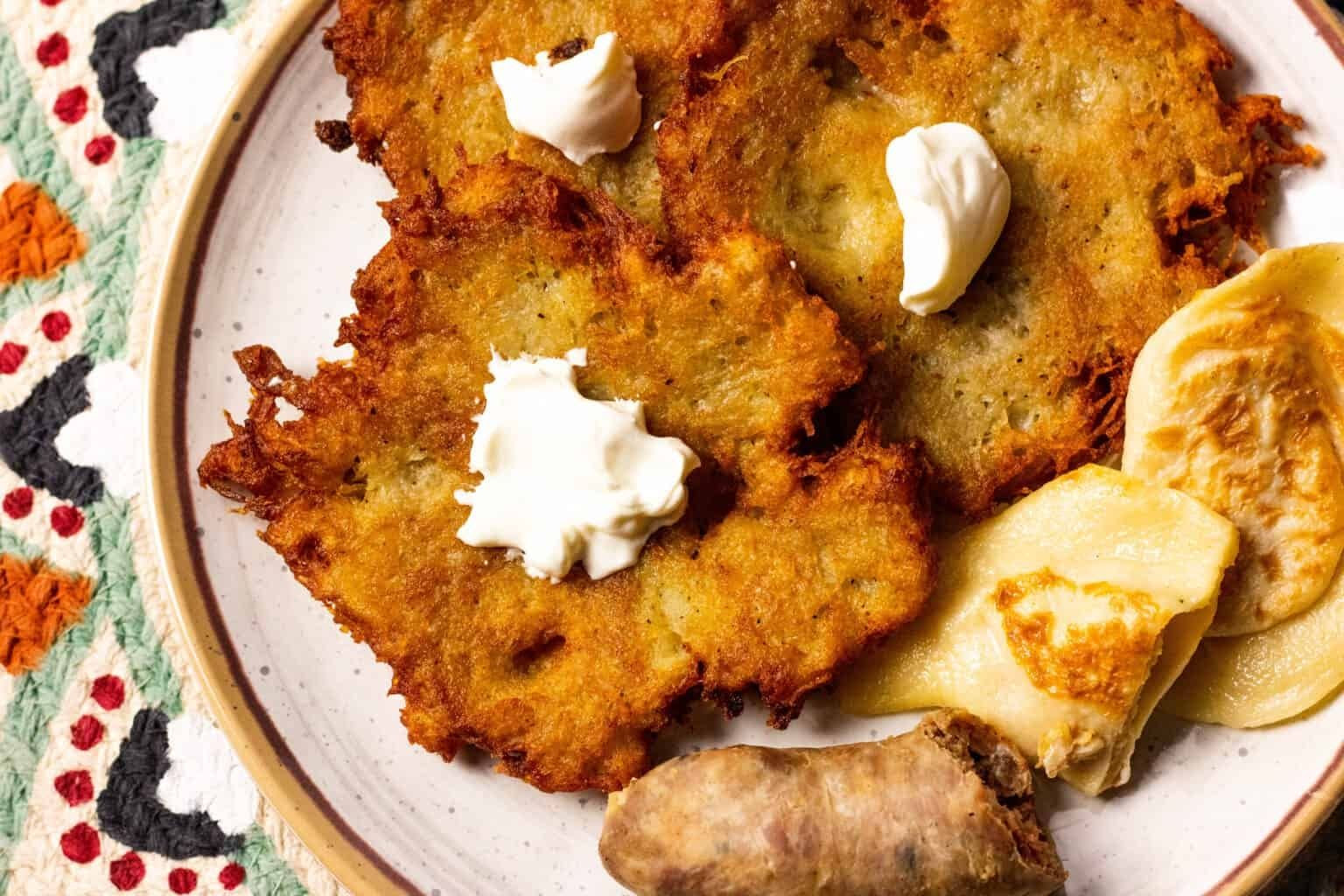 Photo courtesy of The Foreign Fork
When I asked Olga if she had a favorite recipe to share with our readers, she immediately said "Draniki!" Although there are many similar recipes for potato pancakes in various countries, Belarusian draniki is famous for its rich taste, national culinary secrets and the floury Belarusian potatoes – bulba – with their fluffy, dry texture that is perfect for making potato pancakes. Enjoy Olga's favorite draniki recipe with breakfast, lunch or dinner!
Potato Pancakes/Draniki 
Ingredients
6 idaho potatoes
½ sweet onion, grated
½ tsp cornstarch
1 egg
3 tbsp sour cream
½ tsp salt
¼ tsp pepper
1 tsp onion powder
1 tsp garlic powder
½ tsp paprika
vegetable oil for frying
sour cream for topping, optional
applesauce for topping, optional
Instructions
Peel and grate the potatoes. Place grated pieces in a bowl of water.
When all of the potatoes have soaked in the water, lay out a piece of paper towel. Fill the paper towel with the potatoes, bring the corners together and squeeze the excess water out of the potatoes and into a separate bowl.
Once the water settles, discard the brown water at the top. At the bottom of each bowl (where the potatoes originally soaked and where the extra water was squeezed into) there should be a white, cloudy substance at the bottom of the bowl. Scrape out this substance and put it back into the potatoes.
Mix the rest of the ingredients into the potatoes as well.
Heat the oil on the stove. When oil is hot enough (for tips, see blog post above), add about 2 tbsp of potato mixture to the oil. Flatten with a spatula, and fry until brown. Flip and fry until the other side is brown. Drain on paper towel to remove excess oil. Serve with sour cream or apple sauce. Enjoy!
|
Corinne: "Hello?" Me: "Hi Corinne! Am I pronouncing ...
Read More

→
|
Corinne: "Hello?" Me: "Hi Corinne! Am I pronouncing ...
Read More

→