I don't know about you, but I've had more hat-making mishaps than any other kind of yarn disaster.
There was the time I didn't swatch, and ended up with a hat so big it came down past my nose (remember Mushmouth from Fat Albert?)
And the time I used the wrong yarn, so my brim had no stretch.
It seems like such a simple thing, making a hat. But after all these years I can promise you, the perfect hat design is worth its weight in gold.
When you find it, you make it on repeat for everyone!
(I used to have a silly rule against making the same pattern twice. But then I discovered that – like a great recipe – it's so much faster making something the second time around! And when it's a new color, it feels like a new adventure anyway, right?!)
So this week, we've pinpointed and tested TWO perfect, gender-neutral hat designs, paired them with their perfect yarn bases in exclusive hand-dyed colorways…
and featured them on the new Hot Loops Project Wall that just debuted!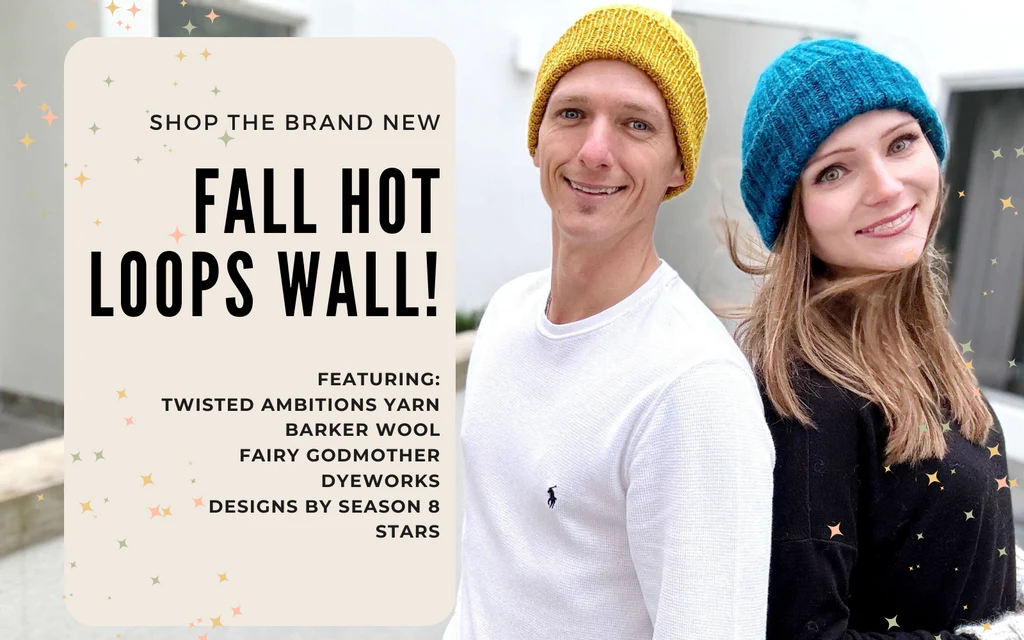 Hip 'N' Slip hat in Wicked DK + Voyager Cap in Sweet Sock + Suriously
First, I'd like to introduce you to "Hip 'N' Slip Hat" by Ross Taylor.
Ross, the magician behind Twisted Ambitions Yarn, tinkered around with this design until he had the perfect hat for himself. It has the look and squish factor of brioche, but it's really a super-simple twisted rib. And it works up super-quick in his Wicked DK yarn.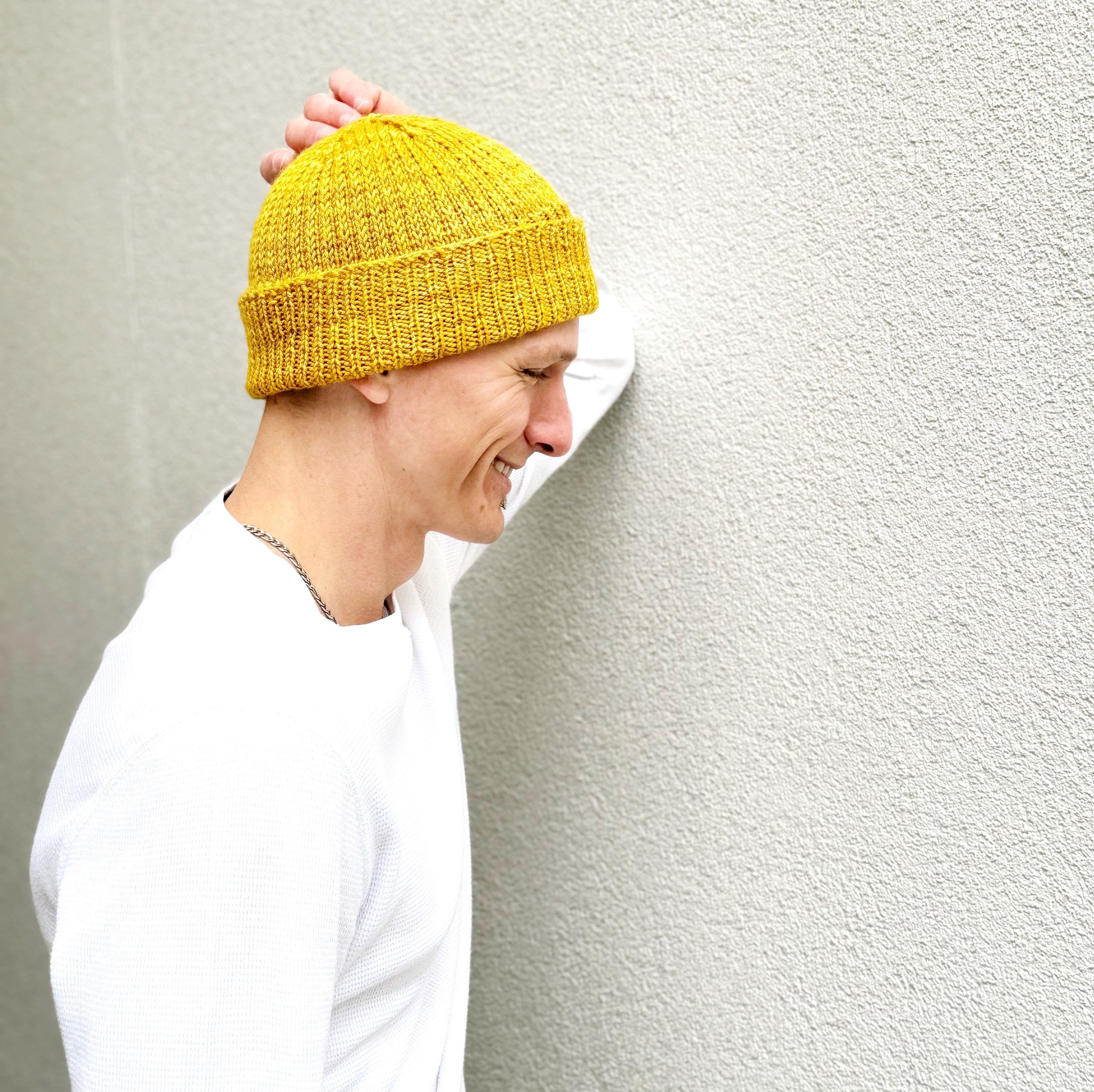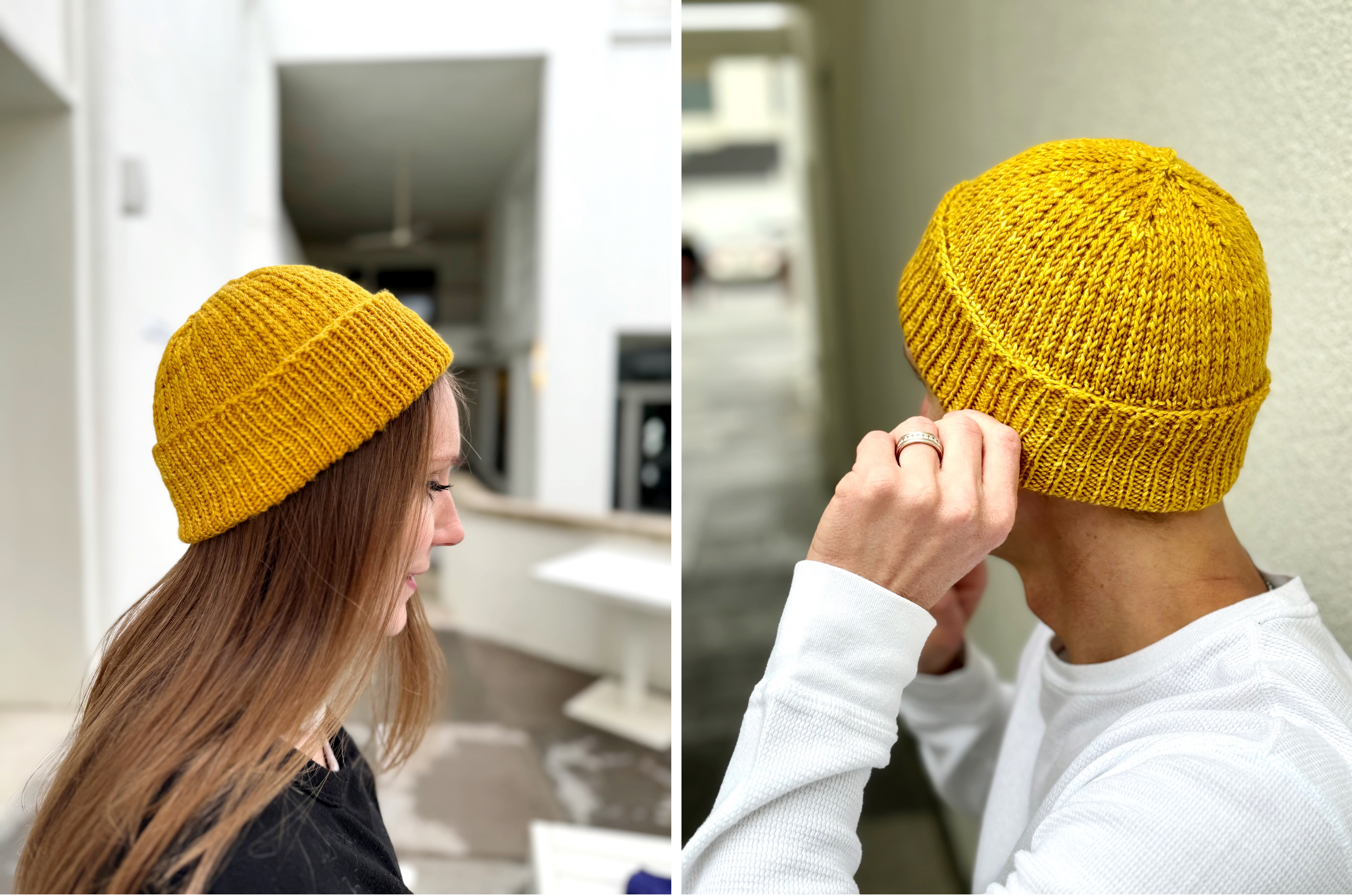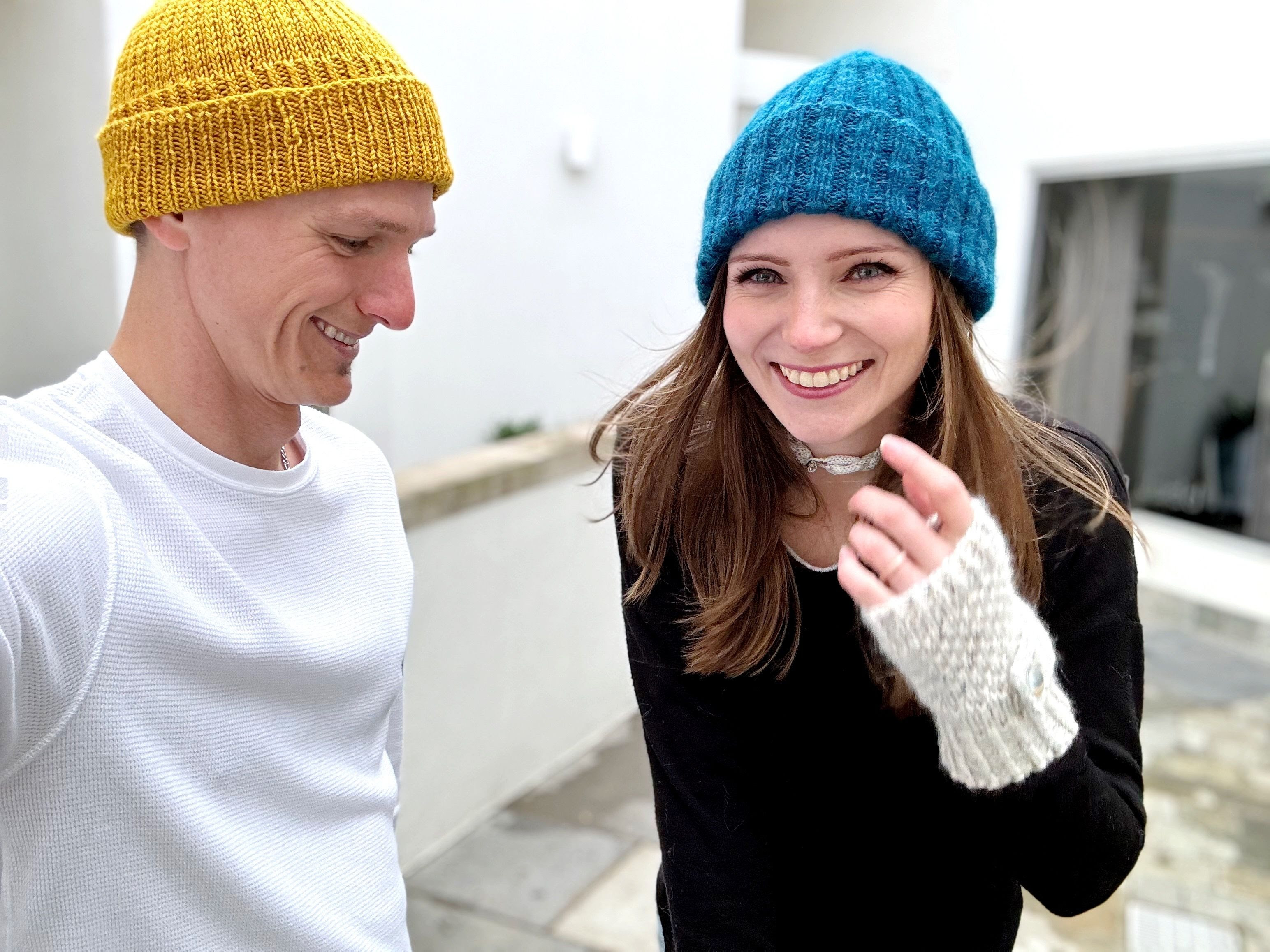 You just need one skein of Wicked DK and size US 6 and 7 needles to make your hat. It's shown here in his "Honey" colorway, and we've curated a special Hot Loops palette of yarns that are all hat-worthy for you.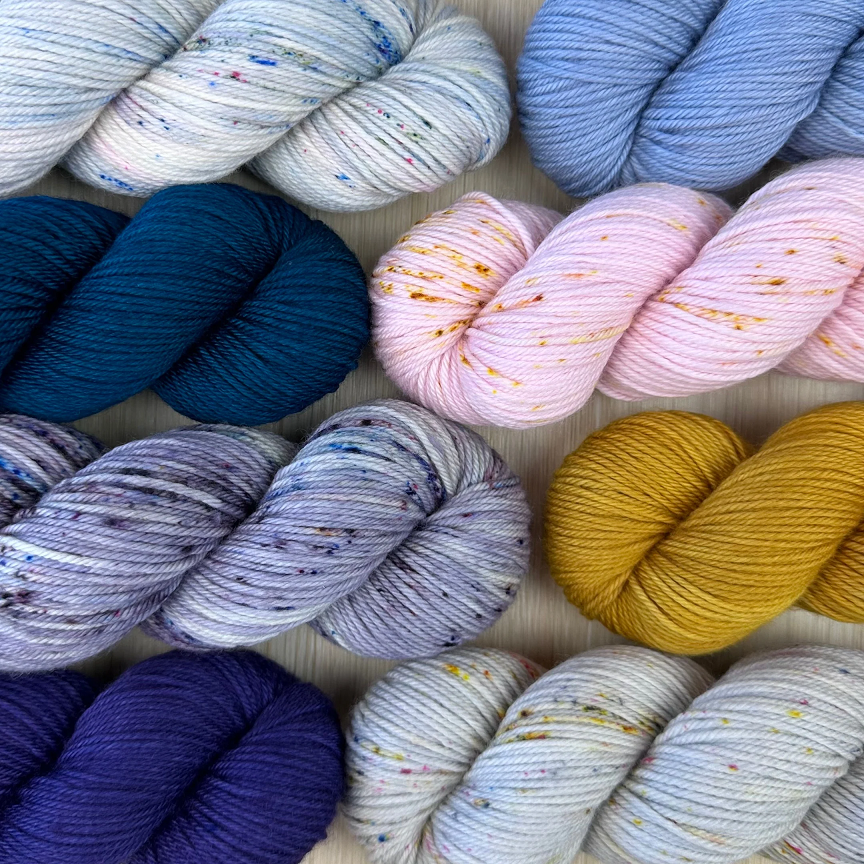 And say hello to your new daily companion…the "Voyager Cap" by Alexandra Tavel. This simply sophisticated beanie is the perfect weight for any season, and can be worn folded over as a skullcap, or in on-trend, pointing-up fashion (look how cute it is on our Megan!)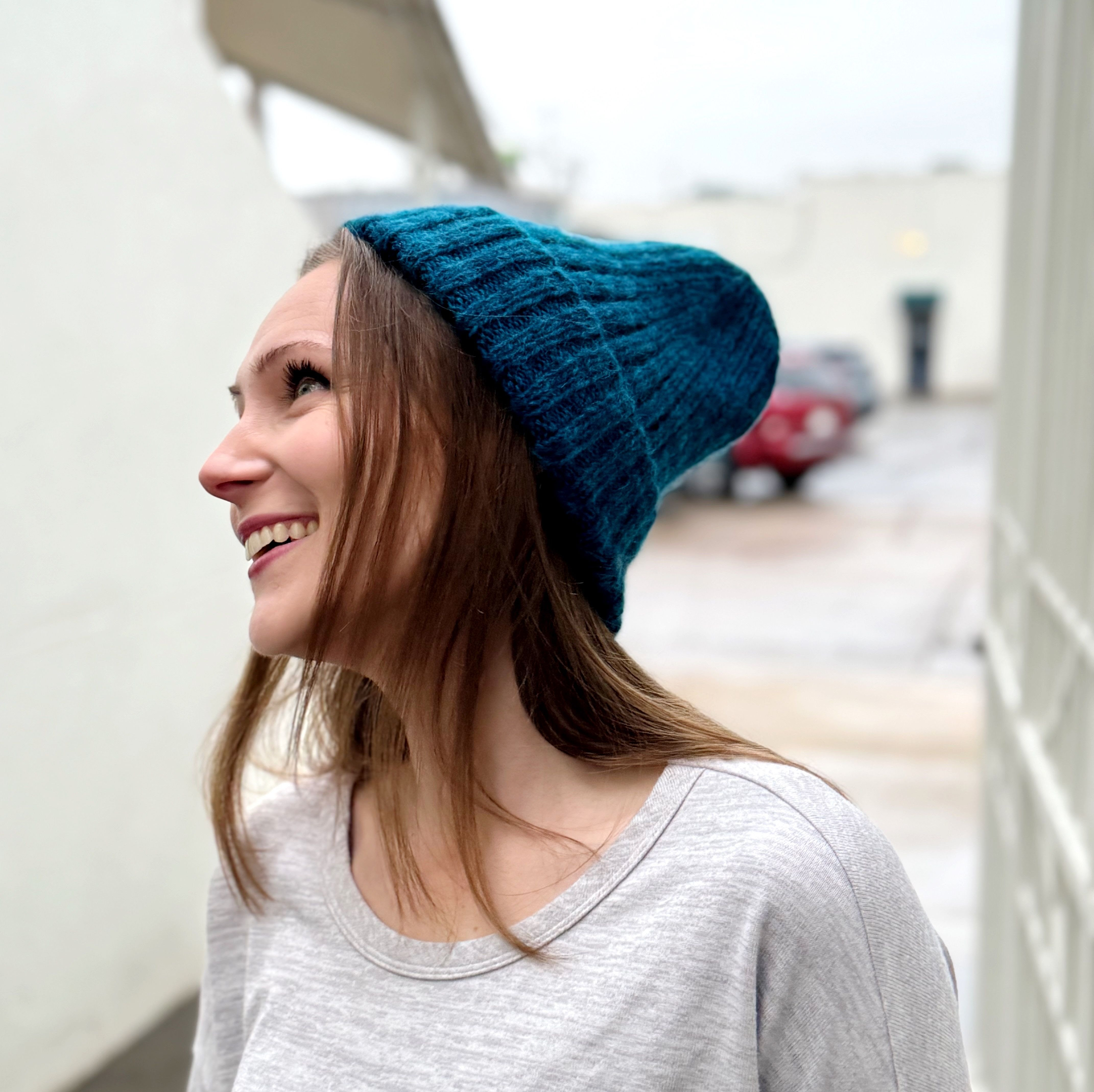 Loretta made our model and raves, "The Voyager Cap was truly a delight to knit. I knew from the outset it would be a mindless knit (yay!) and that it would fit me or any man or woman on my gift list (whew!). With that pressure removed, all that was left was the joy of knitting with Ross' beautiful yarns and watching the glorious colors unfold. Enjoyed every minute."
To make your own Voyager Cap, you need one skein of Twisted Ambitions Sweet Sock and one skein of Suriously. You'll hold them together and use US #6 needles to make your perfect snuggly, wear-on-repeat cap!
Shop Sweet Sock here and matching colors of Suriously here.
Twisted Ambitions' "Suriously" base is seriously out of this world! Alpaca and silk give that fluffy halo we all love, with a silky-soft feel next to your skin.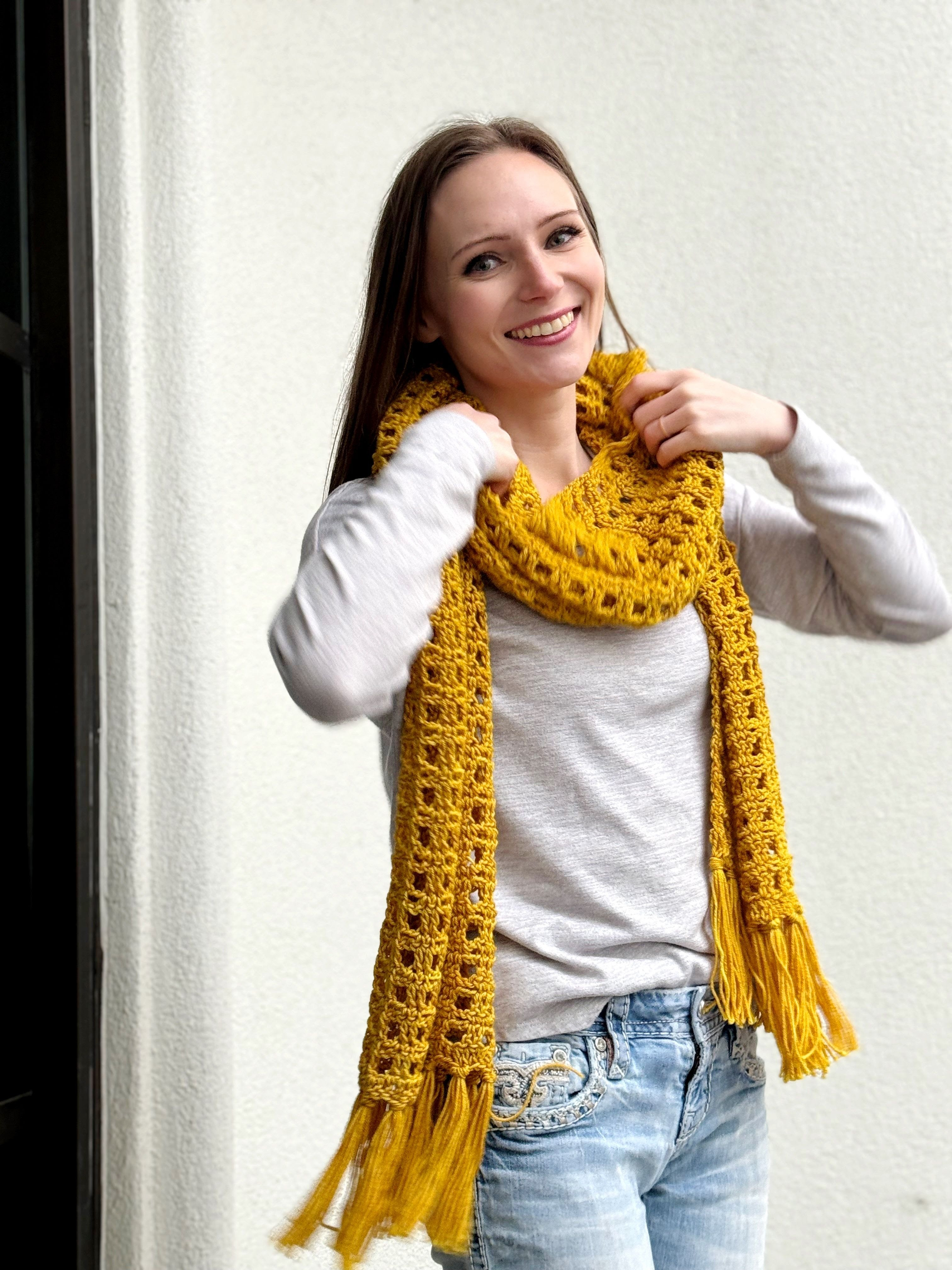 Our versatile team member, Megan, not only modeled for our photo shoot, she helped take the photos, she knit a sample and she crocheted a sample, too! Talk about a Swiss army knife!
Here's what Megan had to say about making the "Ranger Fringe Scarf," also by Season 8 star, Alexandra Tavel.
"I loved how easy it was to pick up or put down whenever, and it still turned out beautiful and trendy. Not many patterns are that easy and fun!"
You can crochet this scarf using a size US K / 10.5 (6.5mm) hook and 3 skeins of your favorite color of Wicked DK. The model is shown in Honey.
We love how many ways you can wear this piece! Its generous size is perfect for looping, doubling up or wearing as a simple (and dramatic) shawl.
Shop the yarn for your Ranger Fringe Scarf here.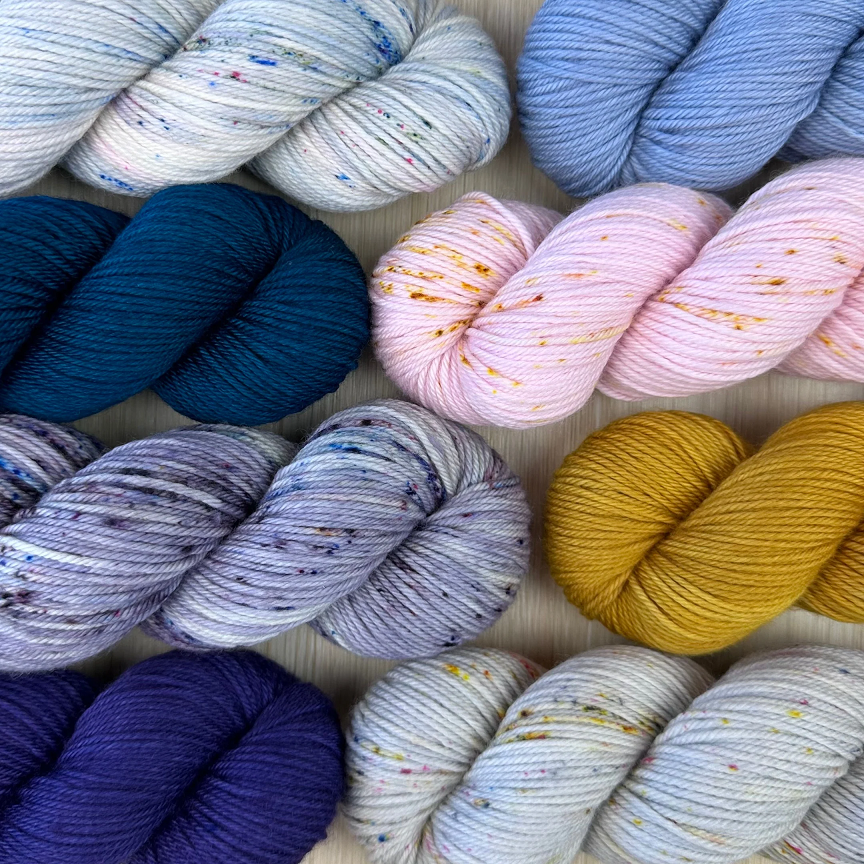 To shop the full Hot Loops Collection, go here.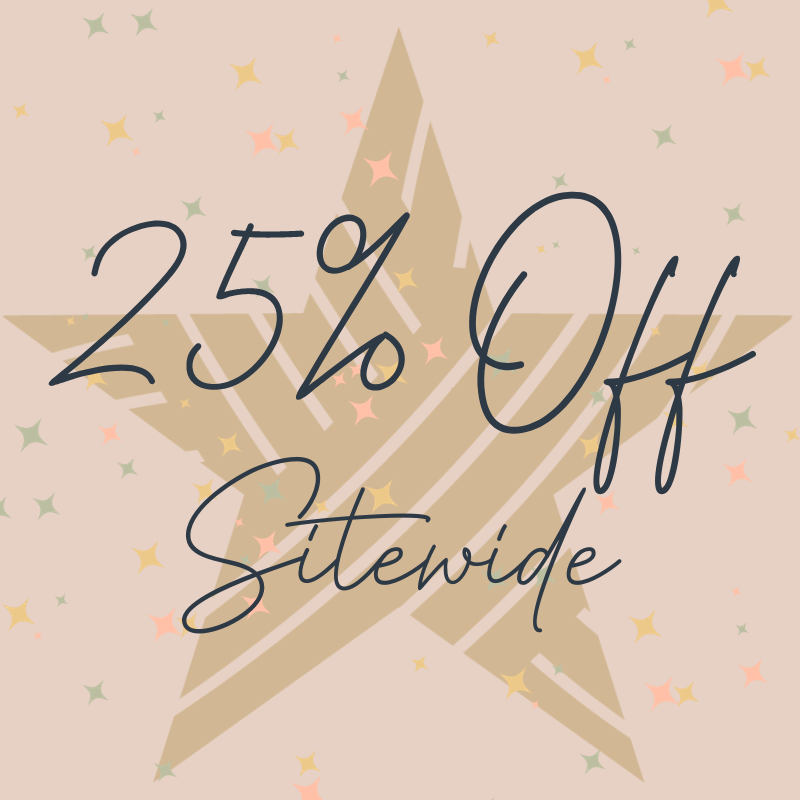 In case you missed it…
I was in such a party mood the night we revealed our new Hot Loops Wall, I announced a 25% off discount site-wide (just excluding the new Wall items, digital products and pre-orders). Yep, that means needles, needle sets, everything…even the vicuña!
All you need to get the discount is use code SURPRISE25 at checkout.
It expires this Friday, so now's a great time to go shopping at loopslove.com
xoxo,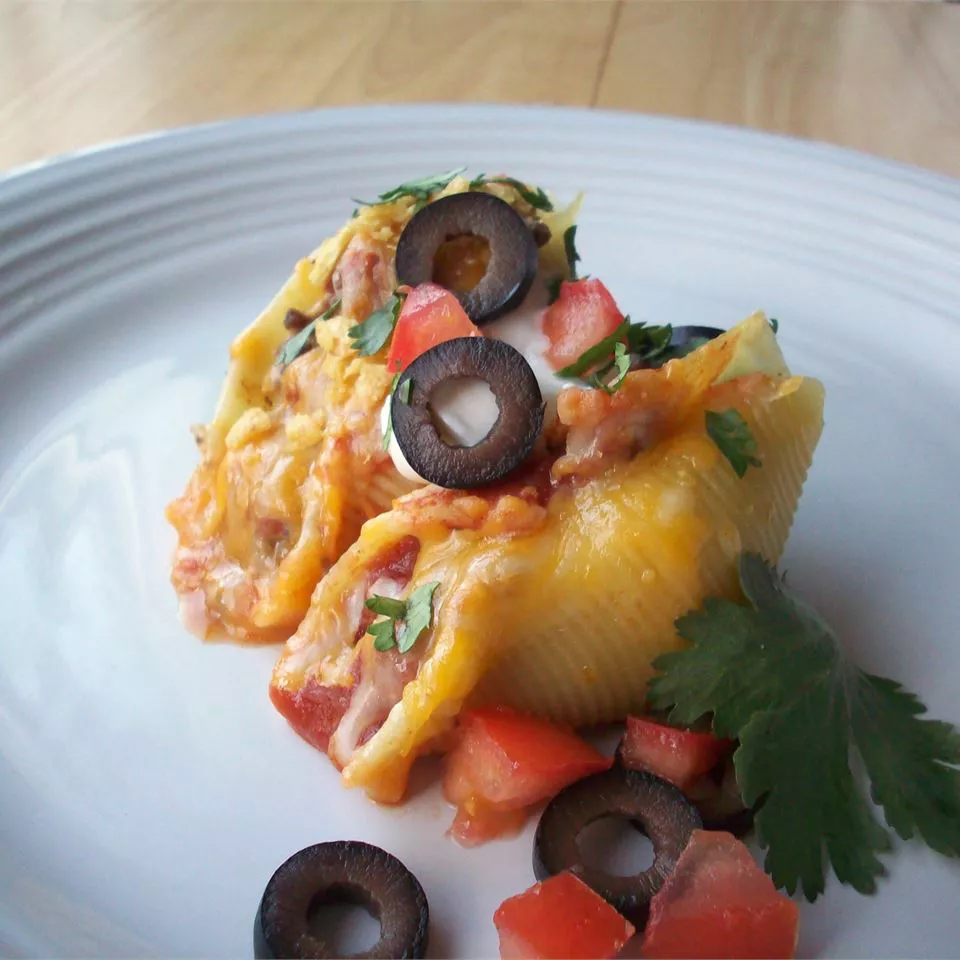 Photo courtesy of All Recipes
This week, I'm headed to Charleston to help my oldest son, Sam, move in after traveling cross-country to start his new job, where he'll be developing maps to assist with emergency response and community development. ❤️ I'm putting together a few of Sam's favorite childhood recipes, to bring him a taste of "home." This was always one of his top requests – a recipe I got decades ago from my friend Sarah. It's easy and fun to put together – and the kids can help!
Tacos in Pasta Shells
Ingredients
1 ¼ pounds lean ground beef
1 (3 ounce) package cream cheese
1 teaspoon salt
1 teaspoon chili powder
18 jumbo pasta shells
2 tablespoons butter, melted
1 cup taco sauce
1 cup shredded Cheddar cheese
1 cup shredded Monterey Jack cheese
1 ½ cups crushed tortilla chips
1 cup sour cream
Instructions
Brown beef in a large skillet over medium heat until no longer pink; drain. Add cream cheese, salt, and chili powder; mix and simmer for 5 minutes.
Meanwhile, bring a large pot of lightly salted water to a boil. Add pasta and cook until al dente, 8 to 10 minutes; drain. Toss cooked shells in butter.
Preheat the oven to 350 degrees F (175 degrees C).
Fill shells with beef mixture and arrange in a 9×13-inch baking dish; pour taco sauce over shells. Cover with foil and bake in preheated oven for 15 minutes.
Remove the dish from the oven and top with Cheddar cheese, Monterey Jack cheese, and then tortilla chips. Return the dish to the oven to cook for 15 minutes more.
Top with sour cream and serve.
|
Corinne: "Hello?" Me: "Hi Corinne! Am I pronouncing ...
Read More

→
|
Corinne: "Hello?" Me: "Hi Corinne! Am I pronouncing ...
Read More

→