🧶The pattern Beth makes on repeat
Apparently you Yarnies are into trivia! 😎
Last week's Knit Stars Trivia was such a hit, we're doing it again…this time with questions about our upcoming Masterclass Season 8 Premiere.
This week's winner will receive an updated "Nice Ice Baby" package of Season 8 exclusive yarns, kits and extras…including this new, commemorative Koigu Pencil Box to make my "Rising Scarf" pattern.
To enter, follow these simple steps:
STEP 1: Hit reply to this email
STEP 2: In your reply email, change the subject line to: QUIZ
STEP 3: In your reply email, fill in your answers to the following 10 trivia questions, below. The winner with 100% correct answer will be randomly chosen after 24 hours and will win a Nice Ice Baby package.
Note: Everyone who replies with QUIZ as the subject line will receive a coupon code for 10% off the special yarns + kits offered in the upcoming Season 8 Wave 2 sale. (Must be enrolled in Season 8 to shop Wave 2). We'll announce the winner and send out the coupon codes within 24 hours.
Question #1: Which Season 8 Star teaches a traditional Icelandic technique and took us by surprise with her strong, sexy hobby?
Your answer: 
Question #2: Which Season 8 Star calls slip stitches NEAFs (you'll find out why in Season 8…)
Your answer:
Question #3 Which Season 8 prodigy is the youngest Knit Star ever?
Your answer:
Question #4 Which Season 8 Star teaches you how to really fit garments to your body, while she encourages you to "knit tipsy, but frog sober?"
Your answer:
Question #5 Which Season 8 Star, who designed both a knit and crochet sweater for her workshop, was "secretly" expecting her first baby while filming her workshop?
Your answer:
Question #6 Which Season 8 Star inspires you to design using only rectangles?
Your answer:
Question #7 Which Season 8 Star is using stainless steel "yarn" in her three-dimensional design that's exclusive to her workshop?
Your answer:
Question #8 Which Season 8 Star says if you're knitting, you ARE doing it right! There's no "wrong way."
Question #9 Which Season 8 Star went from working for the post office to worldwide yarn dyeing sensation?
Question #10 Which Season 8 Star developed the Assigned Pooling method, and is both a dyer and a designer?
Good luck and thanks for playing along!
xoxo,

P.S. Make sure you're enrolled in Season 8 to get an invite to shop the special yarns + Joji bags! The yarns and bags go on sale this Thursday, October 12 at 11 AM Central and we expect several items to sell out within hours. Go here to grab your seat to Season 8 now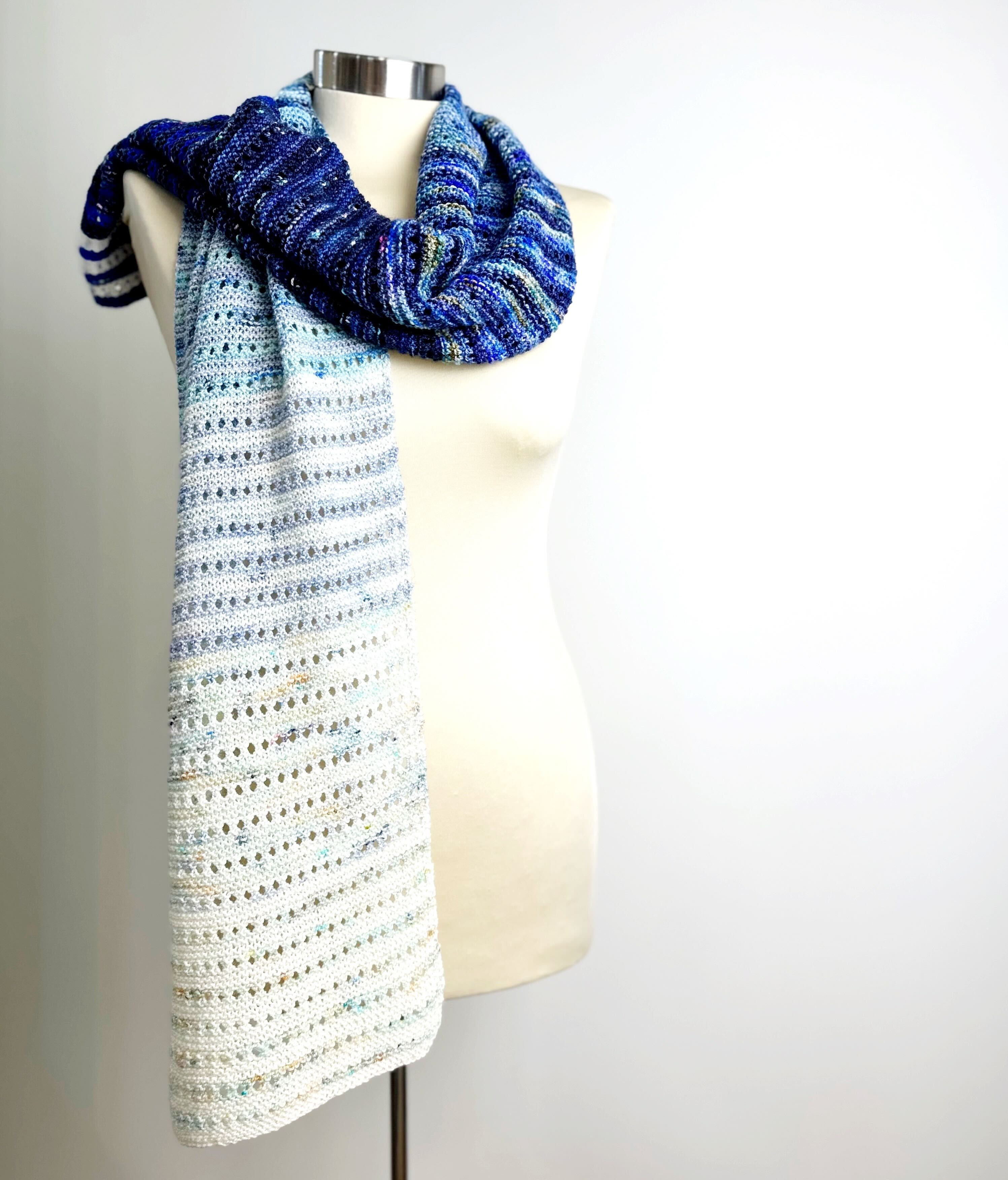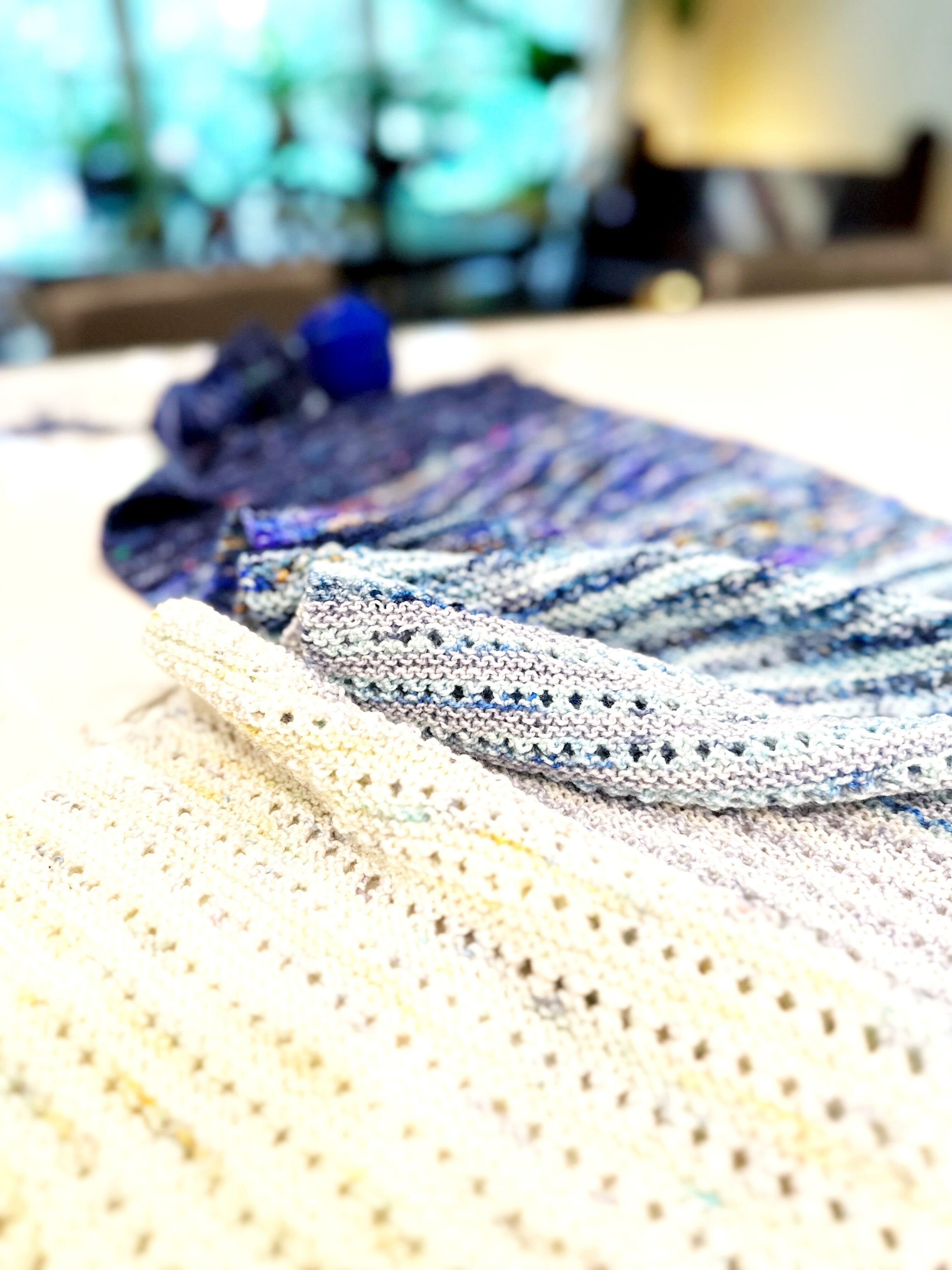 With our new Season 8 Masterclass Premiere getting closer and closer, week, I wanted to give you a sneak peek into a special Masterclass featuring one of Knit Star's very own team members, Beth Gorishek. She's usually working behind the scenes as Knit Star's Relationships Manager, and we're beyond excited to feature her as one of our Season 8 Stars.
Beth's Masterclass on Adaptive Knitting is the class you might not think you need… until you do. (I wish I could have had Beth's Masterclass when I had to adapt my knitting style after a hand injury left me in a splint for several months.)
For Beth, growing up in the 70s and 80s, it wasn't "polite" to talk about differences, let alone a disability. Back then, the term "limb difference" wasn't in her vocabulary. That didn't stop her from being an outspoken advocate for herself by giving talks about her disability to church groups and her schoolmates to help foster acceptance and understanding.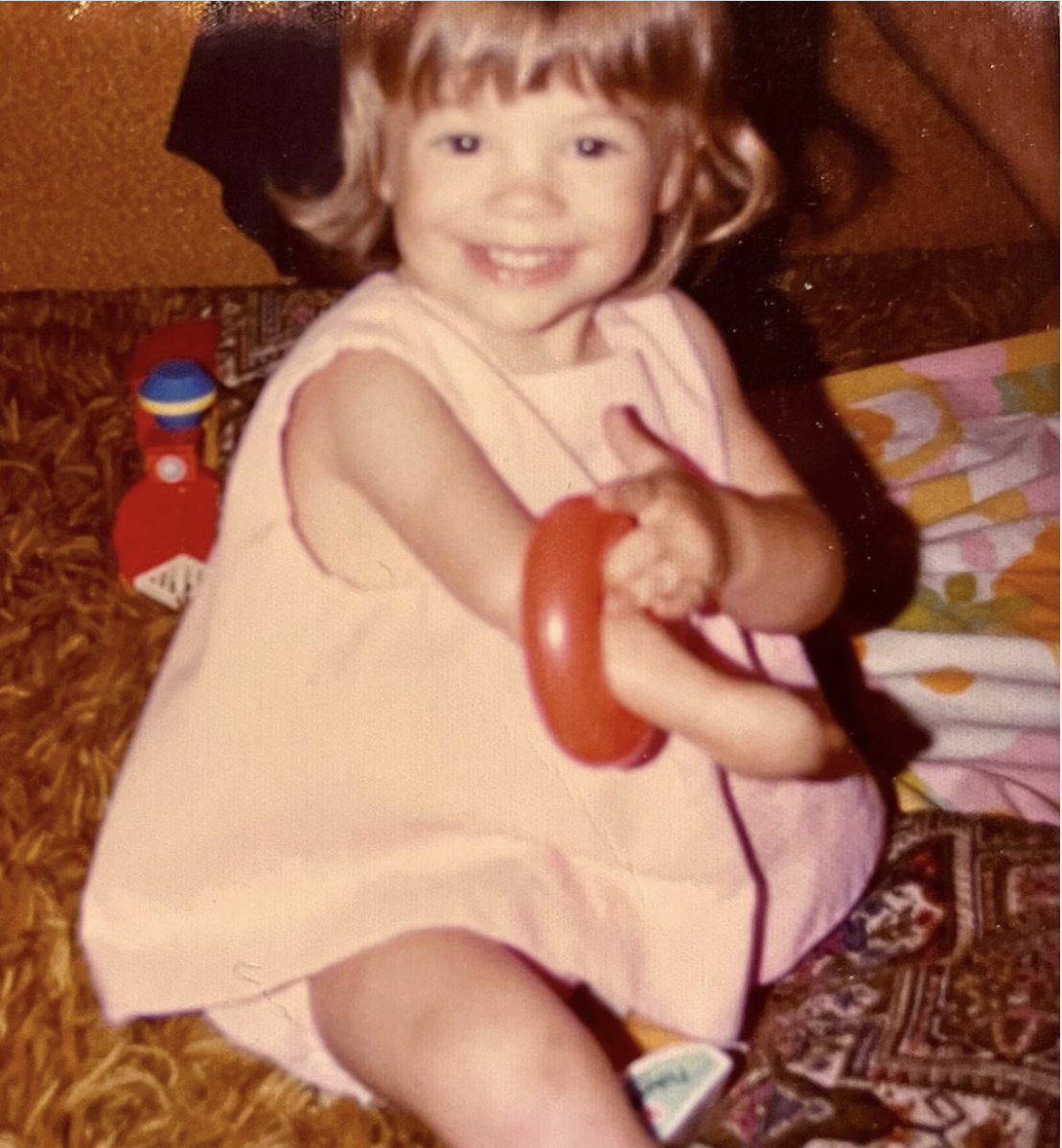 "I fully embrace that I don't knit the way that other people knit. But I still knit and it looks like the same sweater that you create," says Beth.
Everything changed for Beth in 2019 at Stitches West. Up until that point, she hadn't met anyone with the same condition as she has. She was in her booth selling yarn, and a woman came up to her and said, "Hey, AMC buddy! How's it going?" Beth didn't know what AMC was.
"She had two arms that looked like mine. We talked for an hour over coffee and I saw so many similarities." After that, Beth went home and researched her medical records to find out more about her diagnosis.
Since then Beth has been on a discovery journey that has led her to not only understand her diagnosis (Arthrogryposis Multiplex Congenita), but to change her relationship to the disability community.
"Even until 2020, I thought of the word disability as a negative. If someone had asked me, 'Are you disabled?' I would have said absolutely not. I can do everything that you can do."
Over the last few years, Beth has shifted her view to see the term disability in a new light, one that is a badge of pride. She's found community in organizations like The Lucky Fin Project and Knit For a Unique Fit (anyone can join this group to create mittens for limb different kids and adults in need).
You can follow Beth on Instagram @adaptiveknitter, and she has a brand-new website where she even offers private 1:1 to help others adapt: https://www.adaptiveknitter.com/
We're so excited for Beth's Knit Stars Season 8 Masterclass on Adaptive Knitting, where she'll be sharing how to knit no matter whether you're facing an obstacle, or just need to hear that if you're making stuff, you ARE doing it right! 💖
In honor of Beth's all-time favorite pattern called Bandito ("It's my go-to when I need to relax and just enjoy the yarn – I've made three and have a fourth on the needles!" she says)…
We present Fairy Godmother's Evolution cake in your choice of "Beth By Day" or "Beth By Night."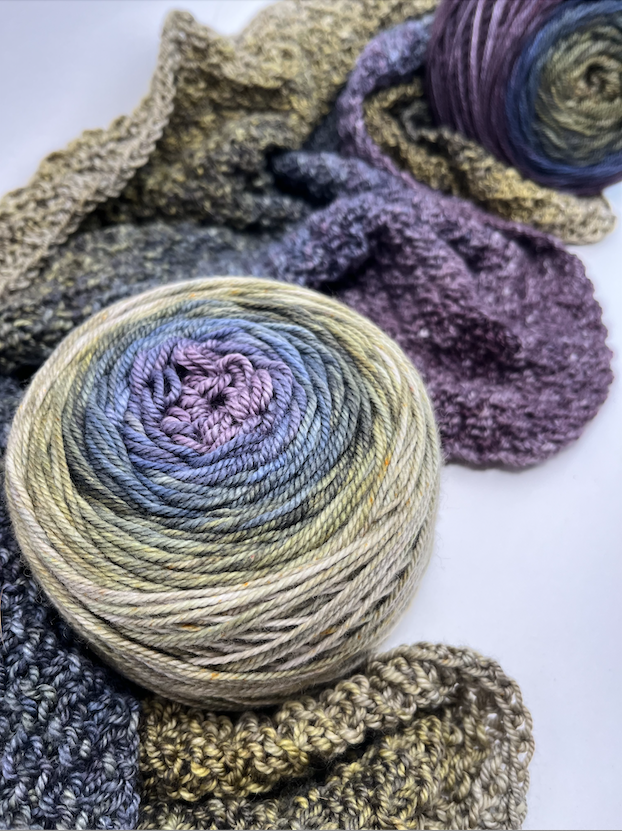 These showstopping cakes include 360 yards of DK weight 80% Superwash Merino, 10% Cashmere and 10% Nylon. You'll need size US 10 needles to make your own Bandito (pattern by Anne Campbell is on Ravelry). The best part? Only two ends to weave in – the cast on and the bind off!
Pre-order your custom cake for $77 here. Your yarn will be dyed to order and shipped directly from Fairy Godmother in approximately 6 weeks.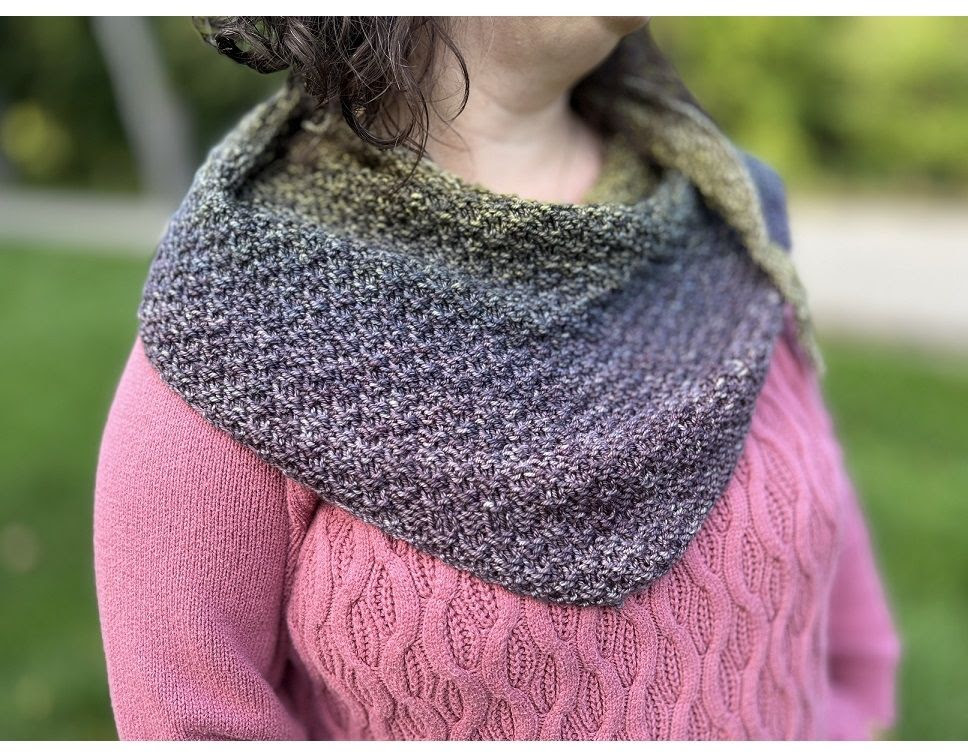 We know many of you will be at Rhinebeck this year and we want to be able to see you! I'll be there on the Hill with GG, Louis and Sunnie at 11 AM on Sunday, October 15th  handing out some fun goodies and just saying "hi!" We would LOVE if you wore one of your Knit Stars Masterclass projects (socks, hats, sweaters, cowls, shawls, we love 'em all!)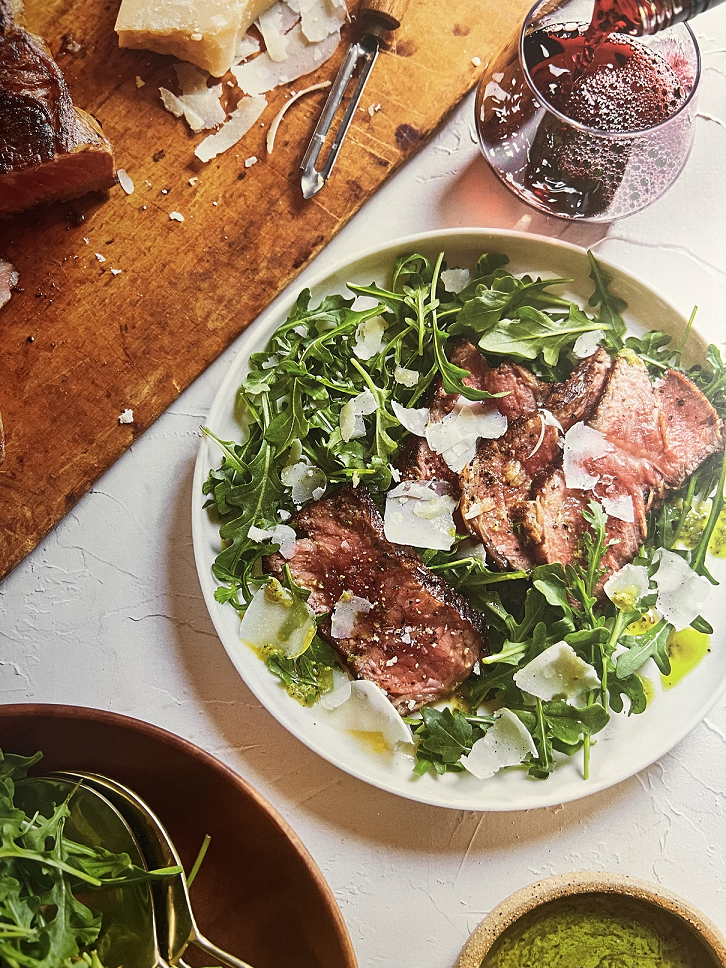 Steak and Arugula Salad with Pesto Vinaigrette
Dinner, Uncomplicated by Claire TanseyIngredients
FOR THE STEAK
1 (1 1/2-to 2-inch-thick) strip steak (about 1 lb | 454 g)
Extra-virgin olive oil
1/4 teaspoon kosher salt
FOR THE PESTO VINAIGRETTE
1/4 cup extra-virgin olive oil
2 tablespoons fresh lemon juice
1 tablespoon store-bought or homemade pesto
1/2 teaspoon Dijon mustard
1/4 teaspoon salt
TO SERVE
4 cups (4 oz) baby arugula
One (2 inch) chunk of Parmesan (2 oz | 57 g)
Instructions 
PREPARE THE STEAK
Pat the steak dry with paper towels. Brush both sides lightly with olive oil and then sprinkle with salt.
Place a heavy, preferably cast iron, skillet over high heat until very hot. Place the steak in the dry skillet and cook for 2 minutes. Flip the steak and cook for 2 minutes more.
Reduce the heat to medium and cook to your preferred doneness, about 5 minutes for medium-rare or 8 minutes for medium well.
Transfer the steak to a cutting board to rest for at least 5 minutes.
MAKE THE PESTO VINAIGRETTE
While the steak rests, in a small jar with a lid or a small bowl with a whisk, combine the oil, lemon juice, pesto, Dijon, and salt and shake or whisk well.
SERVE THE STEAK AND ARUGULA SALAD
Divvy the arugula among 2 or 3 plates.
Thinly slice the steak and arrange it atop the arugula. Using a vegetable peeler or knife, shave the Parmesan over the steak and arugula. Drizzle with the vinaigrette and serve immediately.
|
Corinne: "Hello?" Me: "Hi Corinne! Am I pronouncing ...
Read More

→
|
Corinne: "Hello?" Me: "Hi Corinne! Am I pronouncing ...
Read More

→